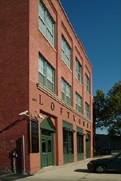 Location
An old established residential community brings warmth and stability to the area. Loft living, fine arts studios, and galleries represent a new direction for the neighborhood. Technology parks are located nearby. Located in the emerging Midtown area, this neighborhood is quickly becoming highly demanded. Near to downtown with easy access to shopping, freeways, restaurants and both the east and west sides of the city.
The Cleveland Clinic borders to the east and Cleveland State University to the west.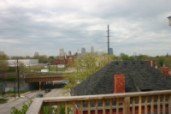 A common roof deck with amazing views of our downtown and sunsets to the north. At the corner of E. 40th Street and Payne Avenue, this building is an integral landmark in the blossoming loft-living and working neighborhood which includes fine arts studios, and galleries. Just blocks from Lake Erie, parks, museums and hospitals.